Best Places to Have Easter Brunch near Richmond MI
You've always liked trying out fresh, new restaurants. So, instead of letting slaving over yet another traditional Ham feast this coming Easter Sunday, why not take everyone out for something more unique?
Well, thank to this guide to the Best Place to Have Easter Brunch near Richmond, MI, you and your loved ones will secure your Easter plans without any stress. That way, you won't be forced to stop at the grocery store to pick up the ingredients for your celebration.
Jonny Cakes Café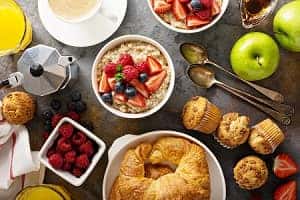 When you've got the whole family with you to kick off the festivities, it's essential to locate a dive that offers up plenty of savory and sweet options.
Luckily, that's exactly what you'll find at Jonny Cakes Café. This local hotspot comes prepared for cravings of any kind with their extensive menu of any brunch item you can imagine.
So, if Eggs Benedict makes your taste buds sing, this joint serves up remarkable spins on this class breakfast dish, with varieties like Chorizo Eggs Benny. This Mexican-inspired plate fills you belly with an English Muffin that's topped with Chorizo, Guacamole, Poached Eggs, Cheddar Cheese, and Ranchero Sauce.
Or satisfy those sugar cravings with their incredible lineup of Pancakes, like Red Velvet, Reese's, Peanut Butter Nutella, Pecan Banana, and so much more.
Take a look at their Facebook for photos of their most popular bites!
Ken's Country Kitchen
What's the key to the perfect Easter brunch? A large collection of classic breakfast choices, of course! And at Ken's Country Kitchen, you'll quickly spot the dish that quenches your thirst for any savory or sugary craving.
No matter if you're a traditionalist or an adventurer when it comes to your main meals, this local dive provides you with options like Country Baby. This dish delights your palette with two eggs, cooked to your liking, with Bacon, Sausage, or Hamburger, Fries, and Toast slathered with Jelly.
On top of that, you'll get yourself a dose of much-needed sweets thanks to their choice of Pancakes, French Toast, and more. You can even opt for a local favorite in the form of the Potato Pancakes, which arrives at your table with Sour Cream and Applesauce.
Check out their Facebook page to see some of their upcoming events!
Rochester Brunch House

At Rochester Brunch House, the most important meal of the day is the center of attention. And on Easter Sunday, make sure you stop here for their menu packed with any type of eats you've been longing for. This breakfast emporium ups the ante on your celebration with imaginative twists on some of your favorite classics.
Sink your fork into items like the Cookie Dough French Toast, which is so mouthwatering that it may start an addiction. Or think about ordering up a platter of Nutella Pancakes, which come adorned with that gooey, chocolatey spread.
If you're more of a savory guy or gal, consider Cherry Omelet, that sprinkles that rosy-hued, Michigan fruit amongst Egg Whites, Bacon, Onion, Goat Cheese, and Sunflower Seeds. Don't forget about the kids, either! This restaurant serves up plenty of options to put a smile on their faces.
Visit their Facebook profile for photos of their cocktails, like the Strawberry Bellini!