Local Spotlight: I Heart Dogs Rescue and Animal Haven

At I Heart Dog Rescue and Animal Haven, their vision is to create a kinder world where all animals' lives are important. They do this by leading a no-kill movement that involves rescuing, rehabilitation, re-homing, and providing refuge for homeless dogs. If you're looking to adopt your next best friend, or volunteer with these sweet creatures, you've come to the right place.
Adopting Your Best Friend
Our goal is to match our dog's personalities, lifestyles, and activity levels with potential adopters, so each animal has a chance to live their best life.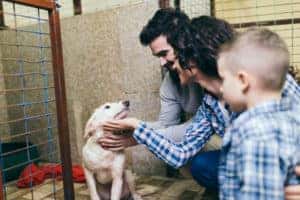 To get started on the adoption process, all you'll need to do is fill out an application and bring it down to our center with your state-issued ID, residency information (including the pets and people that live in the home,) and contact information for your current veterinarian.
Next, you'll meet with an adoption coordinator. Here we'll review your applications and ask you any additional questions about the kind of dog you're looking for.
After that, you'll have the opportunity to meet our dogs to see if you have a special connection. If you decide on a dog you want to adopt, we'll get started on your veterinarian check, and schedule your home visit.
Finally, it will be time to finalize your adoption and take your furry friend home! But remember, we're always available to help you find training resources, and with any ongoing support. Never hesitate to call us with questions.
Donate
As a non-profit organization, donations are a huge help. If you're looking to give back, you can easily donate online. You can do a reoccurring monthly, or a simple one-time donation. Any amount helps.
You can also send tribute gifts, we're always accepting dog food, cat food, Frontline Flea and Tick Control, dog shampoo, dog treats, dog bones, slow feed bowls, blankets, and cleaning supplies.
Get Involved
If you want to dedicate your time, there's a ton of foster and volunteer opportunities for you to choose from. We're always looking for people to do dog walking, cleaning, landscaping, and work fundraising events.
To keep up with our animals up for adoption, as well as our different volunteering opportunities, be sure to follow us on our Facebook and Instagram pages!