Best Waterfront Dining near Richmond MI
When you're looking for a great place to grab a bite, a nice view wouldn't be a bad addition. Luckily, there are tons of waterfront dining spots near Richmond, MI, to help you get the full experience on your next night out.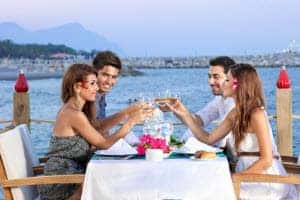 And, to help you plan your waterfront dining experience, we've found three excellent restaurant choices. Just read through our reviews, and see which place with a view has just what you're looking for!
Anita's Riverfront Grille
Overlooking the St. Clair River, you'll find Anita's Riverfront Grille. With its roots setting back to 1981, Anita's has history behind it and great views in front of it, and is a great choice for the entire family!
While at Anita's, try some of our favorite menu items like Texas Cajun pizza, Chicken Ranch quesadillas, and of course, their award-winning nachos. There's something for everyone at Anita's, so make your reservation today!
Island Grill Clubhouse
After spending a day at the Mayea Marina, stop by the Island Grill Clubhouse to grab a bite. With tons of selections on their menu, you'll love ending your day with a fresh, quality meal.
From awesome appetizers like coconut shrimp and deep-fried macaroni and cheese, to delicious entrees like fried perch and filet mignon, this restaurant has everyone's favorite meal. And don't forget to top it off with locally made key lime pie for dessert!
Marine City Fish Company
If you love local fresh fish, beef tenderloin jerky, gourmet sandwiches, and much more, check out Marine City Fish Company. With lunch and dinner hours, you'll find this restaurant to be a great spot for your business meetings, dinner with the family, and everything in between!
Marine City Fish Company has tons of options on its menu, with a wide selection of seafood dishes and other unique items, like gourmet jerky. So, grab your closest friends or your special someone, and head over to this one-of-a-kind restaurant!
With these three excellent restaurant choices, you'll have no problem finding where excellent views meet your next favorite meal. Make your reservation today!