Find Your Zen at These Richmond MI Yoga Studios
If the stresses of everyday life have been getting you down lately, then a little relaxation is in order. What better way to do so than with a bit of yoga?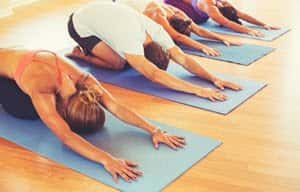 Here in the Richmond, MI, area, there are plenty of exceptional studios where you can learn how to unwind. However, these three seem to stand out from the rest.
Mind & Body Fitness
Mind, body, and soul—they truly are the relaxation trifecta. When all three are in sync, it seems like nothing at all can stop you.
Mind & Body Fitness offers lifestyle and fitness coaching in a friendly and fun environment. With the guidance of their helpful coaches, you should have no trouble meeting your personal fitness goals.
Mind & Body doesn't just offer yoga. They have barre, Pilates, and indoor cycling classes as well. Check out their schedule online today.
Santosha Yoga
In the Sanskrit language, Santosha stands for "contentment," which is exactly what you'll be feeling after one of their classes.
Open seven days a week, Santosha Yoga offers a wide variety of services. There's their standard yoga, of course. However, they also offer yoga in the park, prenatal yoga, and massages.
They're always happy to take on new students. Learn how to join here.
White Lotus
White Lotus is focused on far more than just relaxation. They're more interested in healing the body and mind through consistent spiritual growth. With increased grace, strength, and mindfulness, you're bound to feel healthier than you have in years.
In supporting this healing initiative, White Lotus offers free yoga and Omnipresent Energy Healing Therapy for cancer patients, as well as special prices for new students. Check out their website to learn how you can sign up today.
It's Time to Get in Touch with Your Spiritual Side
When it comes to major stress, deep and calming breaths can only take you so far. Yoga, on the other hand, offers a more peaceful long-term solution.
If you're a beginner, there's no need to worry. All three of the studios work with yoga enthusiasts of all skill levels. Contact them today to get started.