Haul More with the 2017 Ram 2500
If you're a hard-working Richmond, New Baltimore, or Detroit area resident, then you deserve to get behind the wheel of a vehicle that works just as hard as you do. And at Dick Huvaere's Richmond Chrysler Dodge Jeep Ram, we have just the thing for you.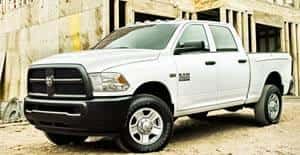 There are few trucks on the market that can match the sheer brawn and durability of the 2017 Ram 2500. Read on to see why.
Performance That Just Won't Quit
Some trucks are prone to give up on drivers over time. But when you've got a busy lifestyle, that just isn't acceptable. Thankfully, the 5.7L HEMI® 8-cylinder in the 2017 Ram 2500 won't quit. You'll be churning up 383 horsepower and 400 lb-ft of torque for years to come.
Several features have been installed to ensure your truck's longevity. Heavy-duty engine cooling and the transmission oil cooler both moderate temperature, while the next-generation engine controller condenses engine components for massively efficient power flow.
And trust us, power flow is definitely going to be important, especially if you're heading uphill or powering through some less than favorable elements. In those cases, features like the electronically controlled throttle are really going to come in handy.
Ready to Head Off-Road?
You've got that impressive HEMI® under the hood. Don't you think you should put it to good use? Our suggestion is to test its mettle with a massive haul. And be sure to load up, as this piece of machinery can pull up to 17,610 pounds!
Additional features like the heavy-duty shock absorbers and the 6,000-pound front axle will ensure that the Ram 2500 can handle it all with ease.
For a bit of added convenience, you can add in some neat towing equipment, like the available powered tow mirrors and trailer brake controls. These will maximize your awareness while driving.
As for anything that doesn't fit on your trailer, you'll still have 74.7 cubic feet of space in the bed of your truck. Moving your cargo won't be a problem!
Stay Safe Even When the Roads Aren't
Understandably, you might have some concerns about how safe your truck is, given some of the massive hauls you'll be undertaking. But the 2017 Ram 2500 was built for this. It can protect you no matter what the path ahead looks like.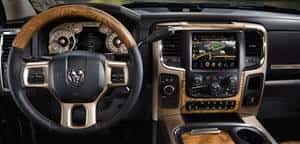 Features like speed control and the Electronic Stability Control will bolster your already rigid frame. When working together, these features can maximize your cornering abilities, as well as curbing all of your extra momentum.
Of course, a ParkView® rear camera is also available. Although you have those excellent tow mirrors, the rear camera will be a great help when it comes to backing in or out of an otherwise tough spot.
Toughen Up with the 2017 Ram 2500
Strength and safety make for a perfect marriage in the 2017 Ram 2500. At Dick Huvaere's Richmond Chrysler Dodge Jeep Ram, we've got plenty in stock for you. If you're ready to reap the benefits, head on down today. We're more than happy to connect all Richmond, New Baltimore and Detroit area drivers with the toughest truck around. Schedule your test drive with us today!