2019 Ram 1500 vs 2018 Ford F-150

Sometimes the streets of Richmond, New Baltimore, and Detroit, MI, can be tough to navigate. Whether you've got a long commute in heavy traffic or must transport a heavy load of supplies, you need a truck that can get the job done. Which one is right for you, though? At Dick Huvaere's Richmond Chrysler Dodge Jeep Ram, we sell, love, and respect many makes and models, and we know choosing one can be daunting.
Today, we'll look at just two of the makes and models on the market today, the 2019 Ram 1500 vs. Ford F-150. We hope this 2019 Ram 1500 comparison will inspire you to make the best decision for your driving lifestyle.
Performance Comparison
The first thing to impress us on the 2019 Ram 1500 was the engine. The Ram 1500 engine has always distinguished itself among large trucks, but this 5.7-liter V-8 engine is nothing short of a road warrior. With 410 lb-ft of torque, you might think the 2019 Ram 1500 is an unwieldy beast, especially compared to the Ford F-150. Test drivers, however, have already found this Ram is light, easy to drive, and in many cases, a lot of fun.
Some Ram drivers worry about the environmental friendliness of the Ram 1500 engine. They associate big trucks and powerful V8 engines with troublesome emissions. If this is you, worry no longer. A 48-volt hybridized option comes standard or optional on all trim levels, upping the 2019 Ram 1500's green factor and lowering your carbon footprint. Also, don't worry that a hybridized engine takes away from the driving experience. Acceleration remains on point, and precise shifting means you won't constantly need to slam on your brakes or swerve, even in the heaviest traffic.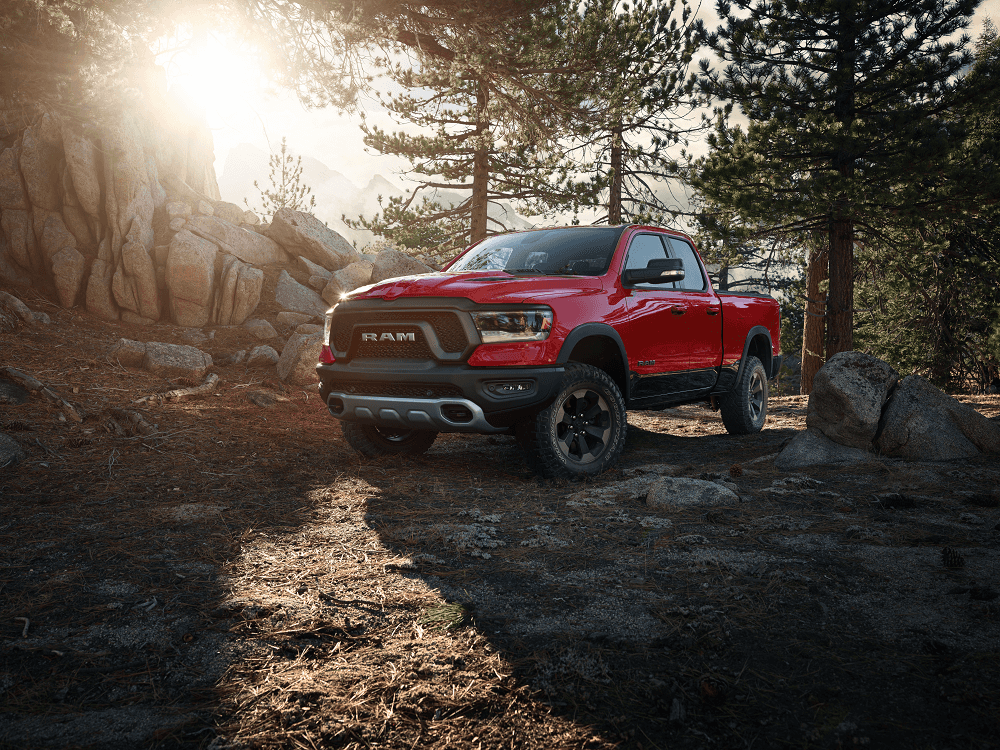 When making the 2019 Ram 1500 comparison against the F-150, both trucks might look the same. Don't let first blush similarities fool you, though. Like its counterpart, the Ford's engine can book it down a busy urban highway, but we noticed it's not as reliable when it comes to fuel economy. You can get an EcoBoost® V6 engine, but that option is only a 2.7-liter. Other trim levels have 3.3-liter or 5.0-liter engines, which fall a bit short when compared to the Ram's 3.6-liter or 5.7-liter V6 options.
The 2018 Ford F-150 boasts 10-speed automatic acceleration, but as with the engine types, there is a tradeoff here. That is, the more speeds you have, the more time you might spend shifting your truck into gear during a commute or everyday trip. Many of our drivers find they don't have that kind of time, or even need so many speed options.
Towing Capacity
Another big question drivers ask revolves around towing capacity. When comparing the tow capacity of the 2019 Ram 1500 vs. Ford F-150, the Ram 1500 wins again. It has less torque than the Ford (410 lb-ft vs. 470 lb-ft), but lighter torque often makes the truck easier to maneuver, especially when transporting heavy cargo.
The Ram 1500 is noted for its massive towing capacity, able to haul 12,750 pounds with a 2,300-pound payload. Whether you're hauling heavy masonry supplies or packing up your all-terrain vehicles and gear for a fall hunting trip, this truck more than has you covered. Smooth, easy shifting will make you feel as if you are hauling a bed as light as air.
In comparison, the F-150's towing capability fluctuates depending on trim level. In some cases, you'll get as little as 7,700 pounds, limiting the amount of cargo you can expect to haul comfortably. You may also have to sort through the specifications of seven trim levels to find the exact capacity you need. Ford offers a Max Trailer Tow package as incentive, but some drivers may feel they don't need the extra features, or don't want to spend the extra money.
Additional Features
Finally, we were impressed with the Ram 1500 redesign overall. The Ram 1500 redesign for 2019 includes such features as a newer, sleeker steel body and updated dampers. The dampers were probably our favorite feature. Their internal bypass valves minimize impact with road debris or sharp turns, and cancel the noise often associated with 8-cylinder engines. Instead of constant revving and barking, all you'll hear is a soothing, velvety hum.
In contrast, the 2018 Ford F-150 hasn't undergone a major body redesign, and many of its special features are based around infotainment and technology. Ford considers itself a classic, but in this case, they might do well to streamline their towing capacity and overall engine behavior.
Contact Us
While the F-150 has plenty to offer for some drivers, we found that the Ram 1500 edges out the competition at every turn. If you have questions regarding this comparison or are ready to schedule a test drive, visit Dick Huvaere's Richmond Chrysler Dodge Jeep Ram today. We are proud to serve Richmond, New Baltimore, and Detroit area customers.