Dodge Charger vs Chevy Camaro

If you have a taste for style and power in your vehicle, there's really no option better than a muscle car. While there aren't as many of them on the market as there are sedans or crossovers, finding the right one for your needs can still be challenging. After all, you deserve only the best when cruising through the Richmond, New Baltimore and Detroit areas.
The 2018 Dodge Charger and the 2018 Chevrolet Camaro are two of the best options available, but only one of them can be right for you. Learn about the differences between these two incredibly powerful vehicles and discover which is best suited for your needs in our Dodge Charger vs Chevrolet Camaro comparison.
Performance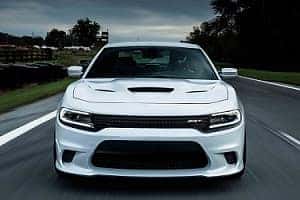 The base model Camaro does something that you might not expect. It features a 4-cylinder engine rather than a V6. Its 4-cylinder is turbo powered leaving it with an impressive 275 horsepower, but it can't match the Charger's base model V6 with its 292 horsepower. Despite the difference in power, both vehicles still earn an EPA-estimated 30 mpg highway.
These are just the base models, however, and both can be extensively upgraded. The ZL1 Camaro, for example, features a supercharged V8 that can produce up to 650 horsepower. While that's already a ridiculous amount of power, the Charger takes it a step further with its supercharged HEMI V8 and its best in class 707 horsepower. Unlike the base models, however, the Charger doesn't match the Camaro's efficiency. Instead, it surpasses it with an EPA-estimated 22 mpg highway in comparison to the Camaro's 20 mpg highway.
Interior
One of the best things to do with a ride as powerful as these is to show it off to your friends. With the Camaro, you'll only be able to fit someone up front, but the Charger comes complete with a back row. Unlike many sedans, the Charger's back row features plenty of room with 36.6 inches of headroom and 40.1 inches of legroom.
Just because the Charger was built for speed doesn't mean that Dodge forgot about practicality. In addition to the generous back seat space, the Charger features a spacious trunk that can hold up to 16.5 cubic feet of cargo. The Camaro's trunk is one of the smallest on the market only able to hold 9.1 cubic feet of cargo.
Technology
Both of these powerful cars are packed with some of the latest tech. No matter which you choose, you'll have access to an advanced infotainment system complete with Apple CarPlay and Android Auto standard. However, only the Charger offers the BeatsAudio sound system that offers state of the art studio quality sound to your drive. You can even upgrade it further for a full 19 speaker system by Harman Kardon.

Dodge Charger vs Chevrolet Camaro
You're in for a fun ride no matter which of these vehicles you choose, but our Dodge Charger vs Chevrolet Camaro left the 2018 Dodge Charger as the superior model. The incredible power and numerous features may be too much to believe, so feel free to come see it for yourself at Dick Huvaere's Richmond Chrysler Dodge Jeep Ram. Our expert team knows the Charger inside out and can show off everything it can do. Contact us for a quote or schedule your test drive today!