2018 Dodge Charger vs Ford Mustang

If there was ever any doubt, the all-American muscle car is back, and it's here to stay. Some entries in this sector, like the Ford Mustang, never really went away, though they did adopt a more sedan-type profile for a number of years. Others, like the Dodge Charger, took a break for a few years before coming back to redefine the market.
It's only natural for drivers in the New Baltimore, Richmond and Detroit area to wonder whether legacy or new evolution wins in a contest between the two. Check out an epic battle of the classic muscle cars as the 2018 Dodge Charger goes up against the new Ford Mustang, and see where to drive the winner.
2018 Dodge Charger vs Ford Mustang
The current generation of 2018 Dodge Charger first hit showrooms in 2006, and was followed by a complete redesign in 2011. It's likely that the new Charger is close to another redesign, but this year it does some renaming of existing trim levels, and shifts a few features, specifically making available a full Uconnect touchscreen interface at the base level, as well as parking sensors.
Ford, on the other hand, is getting a bit of a mid-cycle refresh this year with some new styling, a re-tuned suspension and transmission, and some upgraded engine models. There's a new suite of driver aid features and the Performance Pack lets you add Magnetic dampers. In the end, both cars get some sweet upgrades this year.
Performance Comparison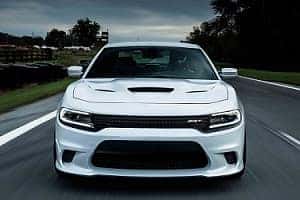 These are muscle cars, after all, so it's only right to begin our comparison by looking at the performance each offers. In this area, it's all but impossible to beat the Dodge Charger. The new Mustang is no slouch, with a top-level 5.0-liter V8 engine at the GT trim that gives you 460 horsepower and 420 pound-feet of torque.
Unfortunately for Ford, that doesn't even come close to what Dodge gives you at its Hellcat trim level. The supercharged V8 Hellcat HEMI engine puts out a blistering 707 horsepower with 650 pound-feet of torque, and backs that up with high-end suspension tuning and upgraded steering. If you're looking to burn rubber, the Charger is the way to go.
Technology Features
Of course, you want the best in technology when you're driving a sports car as well, and once again, it's the Charger that just shines. It gives you dual USB ports, two 12-volt power outlets, and a full Uconnect touchscreen interface with 7-inch touchscreen right at the base level, including Android Auto, Apple CarPlay, Bluetooth, and all the bells and whistles. There's also an optional 19-speaker audio system by Harman Kardon.
If you want a full touchscreen infotainment system on the Ford, you'll have to step it up to a Premium trim level to get Ford's Sync 3 infotainment system. Looking to kick up the sound? Your top end option is only 12 speakers.
Drive the Charger at Dick Huvaere's CDJR
The 2018 Dodge Charger wins out in this battle, though there's nothing wrong with the Ford Mustang. If you'd like to check out the new 2018 Charger, stop into Dick Huvaere's CDJR today and take it out on the Detroit area, Richmond or New Baltimore roads!