2017 Dodge Durango vs. 2018 Chevy Traverse
There is nothing quite like driving a fullsize SUV. The higher viewing position, immense storage space and seating capacity set it apart from other kinds of vehicles. They look bolder than minivans and just about every other class of car on the market. Many in the Richmond, New Baltimore and Detroit areas have already made the switch to a fullsize SUV. If you're thinking of joining them, the next step is choosing which one you want.
Finding the best SUV for you can be challenging, but this detailed comparison can help. Let's look at two of the best SUVs available: the 2017 Dodge Durango and the 2018 Chevy Traverse. Learn the differences between the two and discover which SUV is best suited for your needs.
Efficiency
SUVs have to work hard to perform all that you want, so you have to make sure your choice is as efficient as possible. In terms of fuel economy, the Durango reigns supreme with a notch ahead of the Traverse in every category. The Durango gets an EPA-estimated 18 mpg city and 25 mpg highway compared to the Traverse's EPA-estimated 17 mpg city and 24 mpg highway.
The Durango also holds power over the Traverse with its impressive 290 horsepower. The Traverse maxes out at 281 horsepower on lower trim levels. If you increase trim levels to the top for both, the Durango only increases its lead. At most, the Traverse can get 305 horsepower while the Durango gets an impressive 360. With all that power, fuel economy decreases on both to an EPA-estimated 17 mpg combined, but the extra horsepower gives the Durango the clear victory.
Interior
Both of these SUVs are absolutely gorgeous on the inside and packed with exciting features. Things like cruise control, adjustable steering wheels and auto-off headlights come standard in both. However, the Durango has an advantage with its anti-theft system. The Traverse doesn't have the option for anything similar.
Keeping cool or keeping warm is a necessary part of driving a modern vehicle. Both SUVs have front and rear air conditioning, but Durango drivers can enjoy the standard dual zone climate control. With this feature, both the driver and the passenger have their own climate settings, so no one has to fight about how hot or cold it is anymore.
Safety
If you're going to be driving your family around in your new SUV, you need to make sure it's safe. Airbags are standard in both, of course, but the best way to stay safe is with driver assistance features. These go far in preventing accidents in the first place. Traction control and electronic stability control are standard in both, but the Durango still has an advantage.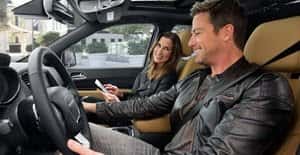 The Durango features brake assist, which is an incredible feature that could prevent an accident or make one significantly less severe. The front sensors can detect if there's danger ahead and will alert you if you're approaching too fast. If you're unable to slow down in time, the Durango's systems can actually apply the brakes for you. This isn't good enough to replace your own reaction, but the system can help you significantly.
Test Drive the 2017 Dodge Durango
At the end of the day, the Durango emerges victorious. In terms of efficiency, safety and interior design, the Durango outperforms the Traverse. You don't have to just read about it, however — you should experience it for yourself. If you're a Richmond, New Baltimore or Detroit driver, come down to Dick Huvaere's Richmond Chrysler Dodge Jeep Ram to test drive the incredible 2017 Dodge Durango. Visit us or call (586) 690-7088 to schedule your test drive today.