2018 Jeep Compass vs Ford Escape

When it comes to sport utility vehicles, there are two names that constantly stand out, and that's Ford and Jeep. These are the two companies with the longest legacy in the sector, the companies that in different ways defined what a sport utility vehicle is. Jeep's legacy runs all the way back to World War II, and it set the standard, which ford Followed when it first released the Bronco in 1966.
Today, both companies offer a range of crossovers, and drivers all over New Baltimore, Richmond and the Detroit area love the Compass and Escape. Which one, however, offers the better SUV experience? Check out how the 2018 Jeep Compass measures up against the new Ford Escape in a head-to-head contest of crossover SUVs, and test drive the winner today.
2018 Jeep Compass vs Ford Explorer
This year's 2018 Jeep Compass model is largely unchanged from the 2017 year, but that's because there aren't many changes needed at this stage—it already offers a superior experience. Ford, on the other hand, is playing catch-up by adding a new trim level that adds a few extra features, particularly making its Sync 3 infotainment system available as an optional add-on.
Essentially, full infotainment systems are available at the same level of upgrades on both vehicles, though the Jeep Uconnect system comes with a bigger 8.5-inch touchscreen than the 8-inch available on the Ford, so it's a better option in the end.  In addition, if you opt for a trim level with a satellite radio, you get a trial subscription from Jeep that's twice as long as that of Ford, so you'll get free Sirius/XM for double the time.
Engines and Performance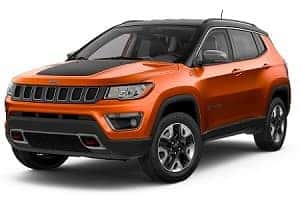 The base level engine for the Jeep Compass is a 2.4-liter four-cylinder which has 180 horsepower and 175 pound-feet of torque. It outshines the base level Ford engine, which only gives you 168 horsepower with 170 pound-feet. That's important because many drivers are looking for off-road capability, and in this area Jeep is quite simply unmatched.
The Jeep Trailhawk trim is specifically designed for off-road performance with specially tuned AWD and suspension, a front end designed for maximum breakover and approach angles, the special Selec-Terrain system for uneven and rocky ground as well as steep hills, and even protection shields on the underbody to keep the gas tank, oil pan and engine safe.
Ford does not have an off-road trim on the new Escape at all. While it can handle some mud and rough ground, it just can't live up to the class-leading off-roading you get from a Jeep crossover.
Compass vs Explorer: Comfort and Driving
Both the Compass and Escape boast a 5-passenger capacity, but the Jeep gives you a lot more room to keep your passengers comfortable. You get 40.7 inches of headroom up front and 39.9 in the back, plus 39.4 inches of legroom in the back seat. Ford, by comparison only gives you 39.9 inches of headroom in front and 39 in the rear, and 37.3 inches of legroom in the back.
Test Drive the Jeep Compass
The 2018 Jeep Compass is the clear winner in this battle. If you'd like to get it out on the New Baltimore, Richmond and Detroit area roads, stop into Dick Huvaere's CDJR today and ask about a test drive!