Jeep Dealer Harrison Charter Township MI
Harrison Charter Township hosts over 26,000 residents. As a part of Macomb County, it's a tight-knit small town where people love the local amenities available from the Saint Clair Haven and Lakeside Regions, to the Lake Saint Clair Metropark. This particular attraction is famed for its playgrounds, pools, outdoor recreation, nature center, hiking and biking trails, picnic areas, and even the beaches that residents enjoy in the summer months.
The township is known locally as "BoatTown," due to the sheer number of marinas that dot the local waterways. It's also a town that takes pride in our men and women in uniform, home to the Selfridge Air National Guard. People in this town want only the best in the reliable vehicles they drive and the sales and service they expect from a Jeep dealer near Harrison Charter Township, MI. That's why they come to Dick Huvaere's Richmond CJDR for their Jeep crossover SUVs.
Jeep Dealer near Harrison Charter Township
If you're looking for the best Jeep dealer near Harrison Charter Township, MI, there's only one place to turn, and that's Dick Huvaere's Richmond CJDR. Drivers in this region know they can count on the customer service they'll get here from the moment they step into the showroom. Our success as a dealer is built on a legacy of trust, respect and relationships with our clients, and our only goal is your satisfaction.
You'll sense the difference as soon as you enter our showroom, where you'll be warmly greeted and treated just like family. Whatever your wish list might be of features, options and performance, our sales staff can help you find the perfect kind of vehicle to meet your needs. Take all the time you need to look over our new inventory; with us there will be no stress or pressure.
Dick Huvaere's Chrysler Jeep Dodge Ram
After you've found the vehicle of your dreams, whether it's a classic Jeep Wrangler, a Jeep Renegade, a Jeep Grand Cherokee Trailhawk for off-road adventures, or any other kind of Jeep vehicle, our finance team will set you up with the perfect incentives, deals and interest rates possible, and help you drive off with the car of your dreams.
For the whole time you own the car after that, our experienced, certified service team will be here for regular inspections and maintenance, repairs and recall fixes to make sure your vehicle is running at peak performance even ten years down the road. When you're ready for your next Jeep vehicle, we'll still be here to help you next time around.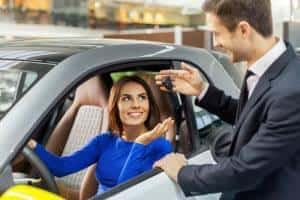 No matter what your needs might be, whether it's off-roading adventure, heading to after-school activities with the kids, taking a long vacation road trip or just day-to-day commuting, we have the Jeep vehicle to get you where you need to go. We are your complete source for all of your Jeep vehicle needs, and we're here to make you happy.
The next time you're in the market for a new SUV, there's no need to look anywhere but your best Jeep dealer near Harrison Charter Township, MI. Call Dick Huvaere's today.
Dealership Info

Mon

9:00 AM - 6:00 PM




Tue

9:00 AM - 6:00 PM




Wed

9:00 AM - 6:00 PM




Thu

9:00 AM - 6:00 PM




Fri

9:00 AM - 6:00 PM




Sat - Sun

Closed

Mon

7:30 AM - 6:00 PM




Tue

7:30 AM - 6:00 PM




Wed

7:30 AM - 6:00 PM




Thu

7:30 AM - 6:00 PM




Fri

7:30 AM - 6:00 PM




Sat - Sun

Closed

Mon

7:30 AM - 6:00 PM




Tue

7:30 AM - 6:00 PM




Wed

7:30 AM - 6:00 PM




Thu

7:30 AM - 6:00 PM




Fri

7:30 AM - 6:00 PM




Sat - Sun

Closed

Mon

7:30 AM - 6:00 PM




Tue

7:30 AM - 6:00 PM




Wed

7:30 AM - 6:00 PM




Thu

7:30 AM - 6:00 PM




Fri

7:30 AM - 6:00 PM




Sat - Sun

Closed