Jeep Grand Cherokee vs Ford Explorer


SUVs are a great way to get around the New Baltimore, Richmond and Detroit areas, but with so many to choose from, finding the right one for your tastes can be tough. If you narrow it down to SUVs that can perform off-road as well as on the road, your choices get a bit slimmer, but it's not over yet.
We want to help you on your car buying journey, so we've compiled this handy comparison between two of the most impressive off-roading SUVs available. The 2018 Jeep Grand Cherokee is great, but 2018 Ford Explorer both have a lot to offer as well. Learn which you'd rather take on your next adventure in our Jeep Grand Cherokee vs Ford Explorer vehicle comparison.
Off-Road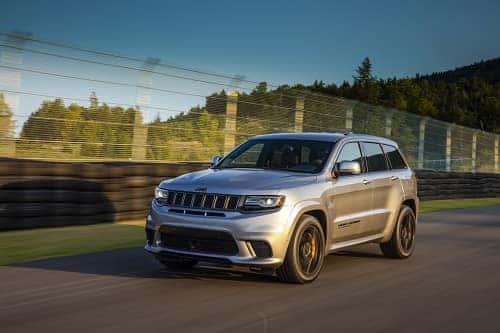 When it comes to off-road performance, it's hard to beat the masters. Jeep has earned its reputation for manufacturing premium off-road vehicles capable of more than other makes can hope for. The Grand Cherokee is no exception. With trail rated tough capability, the Grand Cherokee has all the traction and articulation you need to conquer rough terrain.
Both the Grand Cherokee and the Explorer have four-wheel drive and terrain management systems, but the Grand Cherokee's can offer more. Only the Grand Cherokee has a setting for rock which optimizes your drivetrain to handle rocky terrain. The closest the Explorer gets is a setting for gravel.
To read more about the 2018 Jeep Grand Cherokee, check out this in-depth car review.
Performance
Beneath the hood of each of these SUVs, you'll find a powerful V6 engine. They have virtually the same horsepower in their base models, but the Grand Cherokee offers 5 horsepower more at 295 horsepower. Despite that difference in power, the Grand Cherokee is significantly more efficient at this level offering an EPA-estimated 18 mpg city and 25 mpg hwy. The Explorer, on the other hand, only offers 16 mpg city and 22 mpg hwy.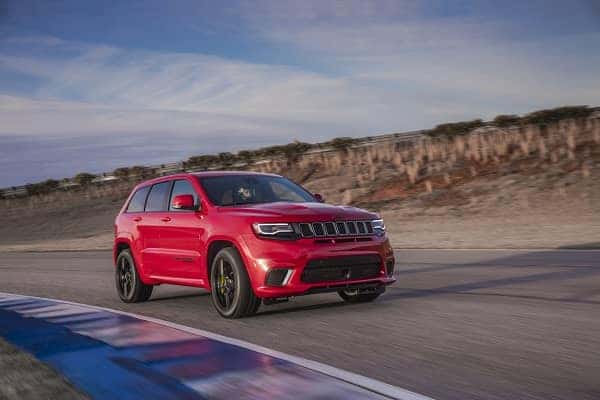 Both engines can be upgraded, but when comparing top trim levels, the Explorer can't even compete. Its EcoBoost V6 is powerful in its own right offering an impressive 365 horsepower. In comparison to an average SUV, this would be the clear winner. The Grand Cherokee's capabilities are profound, however, with best in class horsepower of 707. This is due to the massive supercharged HEMI V8 engine.
Towing Capacity
When you think of towing capacity, you probably think of pickup trucks, but SUVs can haul surprising amounts of cargo as well. The Explorer features a towing capacity of 5,000 pounds when properly equipped which is great if you're planning a family camping trip. However, the Grand Cherokee can offer a bit more with a maximum 7,400-pound towing capacity. Even when you don't opt for the Grand Cherokee's best towing engine, it's base model still features a 6,200-pound towing capacity.
Jeep Grand Cherokee vs Ford Explorer
After our Jeep Grand Cherokee vs Ford Explorer vehicle comparison, the benefits of the 2018 Jeep Grand Cherokee are clear. With its unrivaled horsepower and numerous off-roading features, the Grand Cherokee is the answer to all your off-roading SUV needs. Give it a try for yourself at Dick Huvaere's Richmond Chrysler Dodge Jeep Ram. Our friendly team can highlight everything the Grand Cherokee can offer. Contact us today for a quote or schedule your test drive!