Local Spotlight: Michigan Works! Macomb/St. Clair

Are you currently looking for a new job? Interested in a career change? Michigan Works! provides you with the resources, training, and guidance needed to do just that.
With their help, you will be prepared to find the career you are looking for and get connected to employers who are in need of someone with your skillset!
Their 3-Step Approach
Whether you are looking for your first job, want to advance and move on from that entry-level position you currently have, or change to a new career, Michigan Works! is here to serve you. They will help you reach your aspirations by personally guiding you through these three steps:
Aim: The first thing Michigan Works! will help you with is planning out your future. Setting financial and personal goals will ensure you are fully self-sufficient and working a job that provides satisfaction. They offer a handful of online tools to help you set short-term and long-term goals for yourself.
Align: Now that you have the goals you want to achieve, it's time to start preparing to successfully meet those goals. If more skills are required for the type of career you want, their Career Planners can help get you the necessary training so you can gain the skillset needed to achieve your professional goals. They will help you figure out if either classroom, volunteering, or on-the-job training is best for the certain skills you need to learn for the career you want.
Accomplish: Once the training is done and you have developed or sharpened your skills, it is then time to put yourself out there and find your dream job! Michigan Works! can help you put your best foot forward to help gain that competitive edge. They will help you prepare by setting up a professional online presence for you, showing you where to search to find the best job openings, and have you feel confident when you walk into that office for your big interview!
Helping Your Business Succeed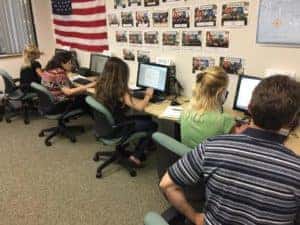 Michigan Works! is also ready to help businesses find the best talent out there to take their company to the next level. If you have a large corporation or you own a small business, they can help you find the right candidates for the new positions you are hiring for.
Their Business Solutions Professionals provide a range of services, including help with the pre-hire process, talent recruitment, and job development and training. With their expertise, your company can save time and money while also gaining employees that will help your business grow.
Contact Michigan Works! and Get Started on Your New Career
Whether you are searching for a new job or looking to hire new talent, contact Michigan Works! today. Their professionals have the expertise and tools needed to help you land that dream job or find the best employees for your company!