Oil Change New Baltimore MI

One of the most important things you can do to keep your car running its best is to get regular oil changes, especially if you drive in harsh conditions such as you might find in a Michigan winter. For a quick and quality oil change near New Baltimore, MI, visit Dick Huvaere's Richmond Chrysler Dodge Jeep Ram. Whether you need a fast oil change, express lane service, or more comprehensive repairs, we're here to help.
Signs Your Car Needs an Oil Change
All cars have a recommended routine maintenance schedule that includes services like oil changes, but sometimes car owners simply get off schedule. If you're not sure whether it's time for your next oil change, there are a few indicators you can look for. Some vehicles come equipped with dashboard lights that will alert you when it's time for an oil change, but you can always check for yourself as well.
Dirty or cloudy oil is often the first symptom that an oil change is due; check your dipstick for oil quality. If the oil looks okay or borderline, crank your car and listen. If you hear odd noises, especially a knocking noise, your engine is telling you it needs new fluid.
Your nose is another good indicator it's time for an oil change. Take a deep breath inside and outside the cabin. Do you smell smoke or exhaust fumes? If yes, your oil is dirty. Your filter might also be clogged. If you notice any of these signs, or if you're unsure whether your car is in need of an oil change, simply ask a technician for some help.
Getting an Oil Change with Us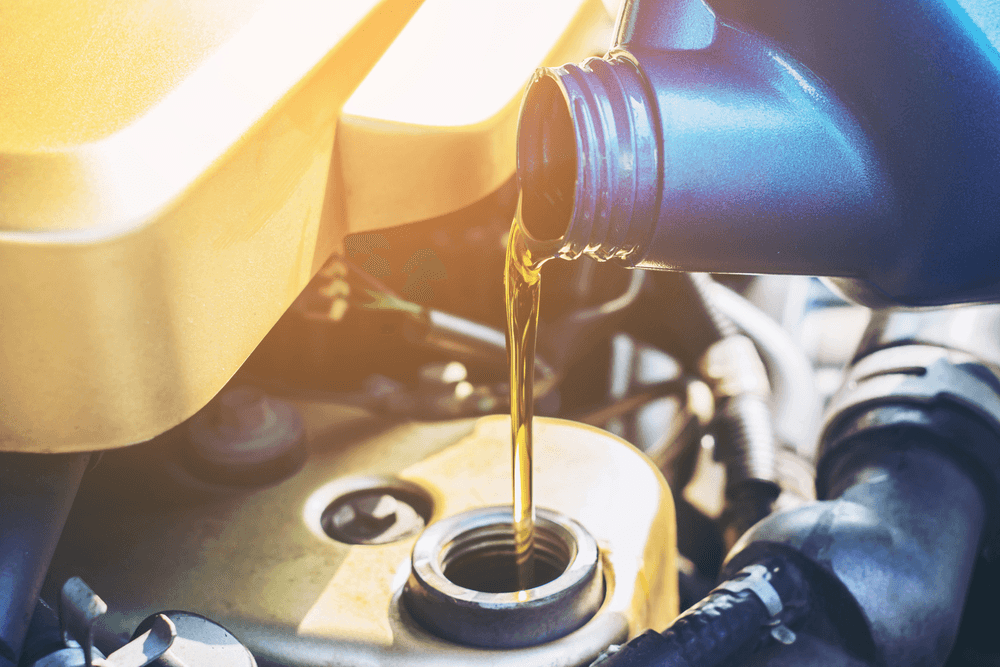 If you choose our dealership for an oil change in New Baltimore, MI, you'll choose excellent service. We'll make a timely appointment for you and match you with an experienced technician. Our technicians boast many years in the field and are familiar with every make and model our dealership has sold. Whether you drive a Chrysler, Jeep, Dodge, or Ram, our team won't be stumped. We always know exactly what kind of oil you need, how much, and when.
Our technicians will walk you through the oil change process and give you a user-friendly maintenance schedule on request. If you're still not sure, or your car seems to need a change ahead of schedule, contact us any time. We will help you diagnose the problem quickly and thoroughly.
For years, we've been lauded for our "customer first" motto and corresponding service. Don't let the pressures of your commute or errands keep you from getting needed maintenance. We have early bird hours and express lane options designed to get you on the road as soon as possible. We also have Saturday hours, so the need for a fast oil change need not disrupt your work week.
Experiencing New Baltimore
A cozy waterfront town that's a part of the Detroit Metro area, New Baltimore is home to several unique taverns, pubs, clubs, and cafes, each stuffed with delectable food, drinks, and desserts. Residents and visitors also enjoy burning off those delicious calories on the area hiking trails or at the golf club.
Of course, to enjoy these amenities, you need a well-serviced car with plenty of clean oil to get you around town. Whenever you need a fast oil change, our service center is here for you. We serve experienced drivers looking for a break from car maintenance, as well as new drivers learning the ropes of oil changes, car inspections, and other necessary services. If you're wondering where to find an oil change near you, look no further.
Oil Change near New Baltimore MI
If you're noticing signs it's time for an oil change, like dirty oil, engine knocking, dashboard oil lights, or an unusual amount of exhaust, don't wait. Come in to Dick Huvaere's Richmond Chrysler Dodge Jeep Ram today. We will give you a convenient appointment time and match you with a technician who knows your specific car. Don't forget to check out our Mopar rebates to save on select services. We look forward to seeing you.