2020 Ram 1500 vs Toyota Tundra

Drivers all across the Detroit area, from New Baltimore to Richmond, love their light duty pickup trucks. Throughout the years, Ram has been a mainstay name in this class, offering superior performance and a driving experience that's nothing short of luxury. Now, the Toyota Tundra has stepped up to the mat to challenge the top dog spot.
Can the Tundra stand against this legacy? It's a solid pickup, but Ram has been a class leader for a long time, for very good reason. Check out what happens when the 2020 Ram 1500 goes against the new Toyota Tundra in a battle of light-duty pickup trucks, which our team here at Dick Huvaere's Richmond CDJR has compared for you below.
Learn more in the full 2020 Ram 1500 Review!
---
Performance Ratings
Performance is what a pickup truck is all about, and in this area the Ram really shines. The base engine on the Ram is a 3.6L V6, which is capable of 305 horsepower and 269 lb-ft of torque. Also available are two upgraded engines, a 5.7L V8 with 395 horsepower and 410 lb-ft of torque, and a 3.0L V6 Ecodiesel that gives you 260 horsepower and 480 lb-ft of torque.
Toyota, by comparison, only has one engine option. That is the 5.7L V8, which only gets up to 381 horsepower and 401 lb-ft of torque. As you can see, it doesn't quite reach the power output of the available V8 in the Ram 1500.
Towing and Payload Capacities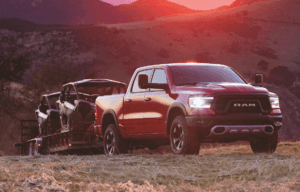 With more power means more strength to carry all of your equipment. That is why the Ram 1500 will be able to handle more weight, whether you are towing a large trailer or packing up heavier gear in the bed of your truck.
Towing Capacity: The 2020 Ram 1500 has a towing capacity that reaches 12,750 pounds when powered by the available 5.7L HEMI® V8 engine with eTorque. The towing capacity of the 2020 Tundra can only be configured to reach 10,200 pounds.
Payload Capacity: With a payload capacity of 1,730 pounds, you will be able to carry a lot in the bed of the Toyota Tundra. The 2020 Ram 1500 will be able to handle even more in its bed with a maximum payload capacity of 2,300 pounds.
Although the 2020 Toyota Tundra is a solid pickup, it can't measure up to the Ram 1500 in terms of strength and utility.
---
Technology and Infotainment
Again, Ram has really upped its game in the technology area. The Ram 1500 is available with the Uconnect® infotainment system featuring an available 12-inch touchscreen that can display GPS navigation and your smartphone apps.
Toyota, on the other hand, gives you a good package, but it only has up to an 8-inch touchscreen. This won't give you as large of a view to see your route guidance or let you split-screen to show multiple settings at once like you can in the Ram 1500.
A Truck Suited for Friends and Family
Your new truck doesn't have to be just about bed space. With both of these trucks, there is a cabin configuration that can fit six people. As you look more closely at the Ram 1500 Crew Cab vs. Toyota Tundra CrewMax, you will see one provides extra personal space for an overall more comfortable ride.
The Crew Cab gives the 2020 Ram 1500 40.9 inches of headroom up front and 39.8 inches of headroom in the second row. The CrewMax provides the Toyota Tundra with 39.7 inches of headroom in the front and 38.9 inches of headroom in the back.
The second row of the Crew Cab also supplies passengers with a spacious amount of legroom. Its seats have 45.2 inches of legroom. The CrewMax also has a lot of room in the back row, but not quite as much room to stretch out the legs with only 42.3 inches of legroom.
Additionally, the rear seats in the 2020 Ram 1500 have an available reclining feature that lets your friends relax even more during longer road trips.
---
More Features to Enhance Your Comfort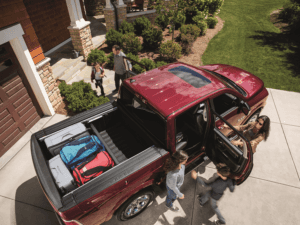 When looking at the Ram 1500 vs. Toyota Tundra, you will also notice all the additional amenities you can get inside their cabins to make your ride a luxurious one within these rugged trucks. They each have an available dual-zone automatic temperature control system that gives you personal control over its settings while your front passenger can adjust their side to a different temperature.
You can also get available heated seats in either truck, which are nice to have when heading out in the morning during the winter. The heated seats are available in both rows in the 2020 Ram 1500 while you can only get them in the front row of the 2020 Tundra.
You can also cool your seat off with available ventilated front and rear seats in the Ram 1500. This helps keep you comfortable even during those hot, summer afternoons. Unfortunately, the 2020 Toyota Tundra once again only has this feature available for its front seats.
A Look at the Safety Features of the 2020 Ram 1500 vs 2020 Toyota Tundra
With either truck, there are a range of standard and available features that will help keep you safe in a variety of situations. This includes when changing lanes. They each have a Blind Spot Monitoring System that can look out for oncoming cars you may not see approaching from the other lane.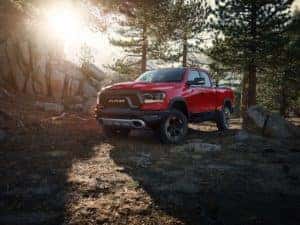 This way, you'll know when you have enough room to confidently switch into the other lane. In the Ram 1500, this system also features the technology of Trailer Detection. This means that when you are towing, the truck can scan the blind spot to accommodate your trailer for safe merging.
Another great feature you can get with the 2020 Ram 1500 is the available Parallel and Perpendicular Park Assist. This system will help steer the truck into a spot along the street in the city or within a tight parking lot. The 2020 Tundra doesn't offer a feature quite like this to help make parking your truck safer and easier.
Test Drive the Ram 1500
Like what you have read about the 2020 Ram 1500? Stop in to Dick Huvaere's Richmond CDJR today and ask about getting out on the roads of New Baltimore, the Detroit area, or Richmond in a Ram 1500 today!