Best Places to Watch the Big Game near Richmond, MI
Your favorite day of the year has finally arrived, and it's time to get ready for the Big Game by donning your football jersey and heading out for some game-time grubbin'.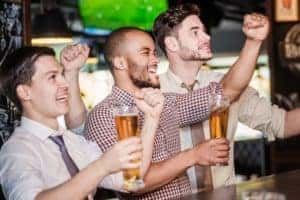 And to get you seated up and ready for every thrilling moment, we're here with our guide to the Best Places to Watch the Big Game near Richmond, MI.
So, huddle up with your family, tackle these local restaurants, and head out on the town to enjoy every second of this action-packed sports event!
Floodz Bar & Grille
After a day of fun, why not cozy up at Floodz Bar & Grille to watch every minute of football's biggest day of the year? This destination for all sports enthusiasts offers up a menu that begins with a long list of alcoholic libations to help you unwind before the big game.
If you prefer a bit of tequila to stay in pace with the exciting plays, try out any of their libations, such as Corazon Reposado, Patron Silver, or anything else. Of course, you cannot have a successful celebration of this big event without plenty of stick-to-your-ribs appetizers and main dishes.
Eats for the Kickoff!
For an Italian twist on traditional game-watching foods, opt for the Arancini, which combines rice, ground meat, and peas into a deep-fried, bite-sized ball. Served with tomato basil sauce, these delightful eats may disappear before the first quarter ends.
Plus, this joint steals the show with $5 pitchers of Bud Light or Miller Light on Sundays, so make sure to snag your jug before the game begins!
Check out some of their upcoming events by heading to their Facebook page!
Sugarbush Tavern
If you've been dying for some classic barbecue that'll warm you up for the halftime performance, stop by Sugarbush Tavern for a bite. Here, you'll find all the wood-fired meats you crave while your favorite team is tackling its way to the end zone.
To satisfy your thirst for some barbecued meats, order up a platter of their famous Baby Back Ribs. And, don't worry, you won't be forced to stick with one type of sauce.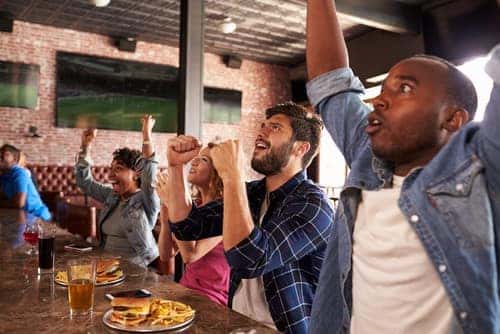 That's because this eatery offers up different options to slather up your ribs, such as House Captain Morgan, Sweet Baby Ray's Bib Bob's Dry Rub, Michigan Cherry BBQ, and more.
Halftime Snacks!
Once Justin Timberlake hits the stage, get ready for a memorable performance by opting for a basket of tender wings, whether you prefer Wing Dings or Boneless Wings.
With flavors like Cajun, Hell Sauce (HOT!!), Buffalo, Open Pit BBQ, Captain Morgan, and much more, you'll discover your new favorite flavor at this dive.
Take a look at a few customer reviews on their Facebook!
The Hub Sports Bistro
What could possibly be better for soaking up every moment of the Big Game than craft beer, pizza, and burgers? Well, at The Hub Sports Bistro, that's exactly what you'll find.
No matter if you've got a hankering for some Pepper Jack Cheese Balls, a basket of Fire Alarm! Boneless Wings, or anything else, this game time haven comes packed with all the snacks you need while you root for your team.
Finish Out the Game!
Now that you've had a chance to pick on some awesome appetizers, it's time for the main event. Wrap up this football spectacle with the popular Hub Attack Burger. An indulgent ½ pound beef patty gets topped with provolone, Swiss, and American cheeses, as well as lettuce, tomato, and onion.
The kicker? This burger is served between two grilled cheese sandwiches. Talk about a game-winning meal. And by pairing this decadent sammie with a craft beer, you'll be ready to end your day on a high note.
Visit their Facebook profile for a sample of their rotating beers!