Mopar Service in Richmond
Dealership Amenities
Mopar provides authentic OEM parts for your Chrysler, Dodge, FIAT, Jeep, RAM or SRT vehicle. We also offer OEM accessories and performance parts for your vehicle to make sure it's customized to your heart's desire.
Certified Technicians
We Have Early Bird Hours
Free Estimates
Free WiFi
Goodyear Tires
Michelin Tires
We Offer Mopar Accessories
We Offer Mopar Performance Parts
We Offer Rentals
Saturday Service
Shuttle Service Available

If you're looking for reliable and quality automotive maintenance and repair services in Richmond, New Baltimore, and Detroit areas,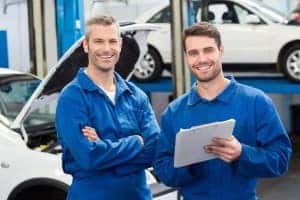 nothing will serve you quite like Quick Lane. At the Quick Lane Tire & Auto Center you can be sure that your vehicle is getting the top-quality service it deserves from highly trained professionals.
At Dick Huvaere's Richmond Chrysler Dodge Jeep Ram, you'll find a Quick Lane Service Center that's prepared to tackle any automotive issues you might have. Learn more about the Quick Lane service and discover how Dick Huvaere's Richmond Chrysler Dodge is the premier choice for all your automotive needs.
About Quick Lane
Since our beginning, Dick Huvaere's Richmond Chrysler Dodge Jeep Ram has always strived to provide quality service in all areas of our business, and that includes our service center. That's why we're so happy to have Quick Lane as part of our family.
Quick Lane is as dedicated to quality and service as we are, so you can expect a speedy and reliable repair every time you drop by. Whether you need an oil change, tire rotation, brake replacement or something even more complicated, Quick Lane is happy to help. They use quality parts and tires from trusty name-brands, so you get the best of the best.
Oil Change
Every car needs an oil change every now and then, usually twice a year. Oil is the lifeblood of your car, so it's important you keep it in top condition. Quick Lane uses a high quality synthetic blend oil complete with performance additives that protects your engine against wear and corrosion. If you want the absolute best, however, Quick Lane will work with you to find the best solutions for your specific make and model as dictated by the manufacturer and repeated testing after the vehicle's release if it's a few years old.
Brakes
Modern brakes are incredibly efficient precisely because they're designed to wear. While this maximizes your stopping power, it also means you'll have to get your brakes changed eventually. The experts at Quick Lane can examine your brake pads and honestly determine whether or not they need changing. You can also find brake fluid and other products.
Battery
Issues with car batteries are a fairly common problem. At Quick Lane, you can be sure they have the battery your car needs if something ever goes wrong. It never hurts to get it inspected, however, as there are some signs of wear that technicians can pick up on even if the battery is still holding a charge.
Belts and Hoses
One of the most overlooked causes of automotive problems are belts and hoses. However, if these systems do start to wear, your vehicle could become completely disabled. Remember to get your belts and hoses checked frequently, not just for wear, but for correct tension, as well. The experts at Quick Lane know exactly what to look for.
Visit Quick Lane at Dick Huvaere's Richmond Chrysler Dodge Jeep Ram
If you want the best service in the Richmond, New Baltimore, and Detroit areas, look no further than Quick Lane at Dick Huvaere's Richmond Chrysler Dodge Jeep Ram. With their quality service and premier customer service, you're sure to leave satisfied with a vehicle in top condition. Visit us or call to schedule your service appointment today!
Dick Huvaere's Richmond Chrysler Dodge Jeep RAM
Is Located At:
67567 South Main St., Richmond, MI 48062
Get Directions